Traffic Instructions
Send your traffic instructions or any inquiries to:
The Weather Network = [email protected]
MétéoMédia = [email protected]
Commercial and copy instructions must be received by 10:30 am on the business day before the broadcast date.
**All commercials that air on The Weather Network and Meteo Media must be Closed Captioned to comply with CRTC requirements. We also require a Telecaster number for each material. Please contact https://thinktv.ca/think-clearance/ to obtain a number. Non Captioned material with no Telecaster number could be rejected for air**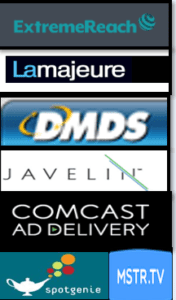 New to electronic services, contact the above for step by step. Best way to deliver and always have CC on your spots.
*FTP in house delivery – (for direct clients ONLY)
ftp site:  ftp.twn.ca
Username: outsideagency
Password: uploadtotwn!
Destination folder: /Agencies
* User name and password are case sensitive.
** Please note – If a spot is sent directly to our FTP site, please notify us at
[email protected] when it has been uploaded. We do not receive notification when a new spot arrives on the FTP.
Delivery Specs: HD
HD Requirements: 1920x 1080i @ 29.97 fps

Video Wrapper: MXF, LXF, MPG (We do not accept ".MOV" files due to our closed captioning requirements).
Compression codec:
XDCAM HD 4:2:2 (35 & 50 Mb/s) using either an MXF or LXF Wrapper **** Preferred delivery format
MPEG-2 I-frame:
4:2:0 (50, 80 & 100 Mb/s)
4:2:2 (50, 80, 100, 120 & 150 Mb/s)
MPEG-2 long-GOP
4:2:0 (50, 60, 70 & 80 Mb/s)
4:2:2 (50, 70 & 80 Mb/s)
Audio Formats
PCM Stereo on channels 1 & 2 (No Dolby E or AC-3 accepted) (no surround sound can be broadcast – only stereo)
Sampling rate: 48 KHz
Quantization :16 or 24 bit PCM
Loudness: -24 LKFS as per ITU-R BS1770
*All HD Commercials must have lines 608/708 Closed Captioned.*