STANDARD BROADCAST OPPORTUNITIES:
15 & 30s Brandsell Spots
Banners
Branded Content
Sponsorships
DELIVERY SPECS
Format: MP4 (MPEG-4) – MOV
Codec: NVIDIA NVEnc H.264 Encoder, Video Bitrate: 10Mb/s
Audio Codec: AAC, Audio Bitrate: 192kb/s
File Extension: mp4
Resolution: 1920 x 1080i
Bit Rate Mode: Constant
Bit Rate: 192 kb/s
Frame Rate: 29.97 FPS
Closed Captioning Embedded (608 and/or 708)
TRAFFIC INSTRUCTIONS
Send your traffic instructions or any inquiries to:
The Weather Network = [email protected]
MétéoMédia = [email protected]
Commercial and copy instructions must be received by 10:30 am on the business day before the broadcast date.
**All commercials that air on The Weather Network and MétéoMédia must be Closed Captioned to comply with CRTC requirements.
We also require a Telecaster number for each material.
Please contact: https://thinktv.ca/think-clearance/ to obtain a number.
Non-Captioned material with no Telecaster number could be rejected for air**
Online Digital Services we accept: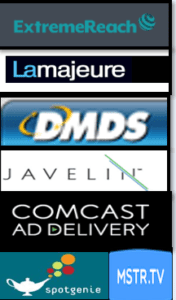 https://distribution.lamajeure.com

New to electronic services, contact the above for step by step. Best way to deliver and always have CC on your spots.

*FTP in house delivery – (for direct clients ONLY) Use Filezilla browser only
ftp site:  ftp.twn.ca
Username: outsideagency
Password: uploadtotwn!
Destination folder: /Agencies
* User name and password are case sensitive.** Please note – If a spot is sent directly to our FTP site, please notify us at
[email protected] when it has been uploaded. Please contact us and we will send you the document on how to transfer files using FileZilla with a Secure Connection. We do not receive notification when a new spot arrives on the FTP.
For more information on our capabilities, please contact your Client Partner.